Sponsor a local family trying to escape poverty.
Becoming a Family Partner allows your workplace, family, congregation, or organization to come together in support of one family for one year as they work with Friendly Center to overcome the barriers of poverty.
Families that come to Friendly Center face their own unique barriers, making our comprehensive wrap-around programs, emotional support, and steady encouragement especially valuable. As a Family Partner, you help provide the encouragement and steppingstones a family needs to move forward – witnessing firsthand the progress made each month as they begin to build a better life.
To get started, call (714) 769-8869 or email arian@friendlycenter.org.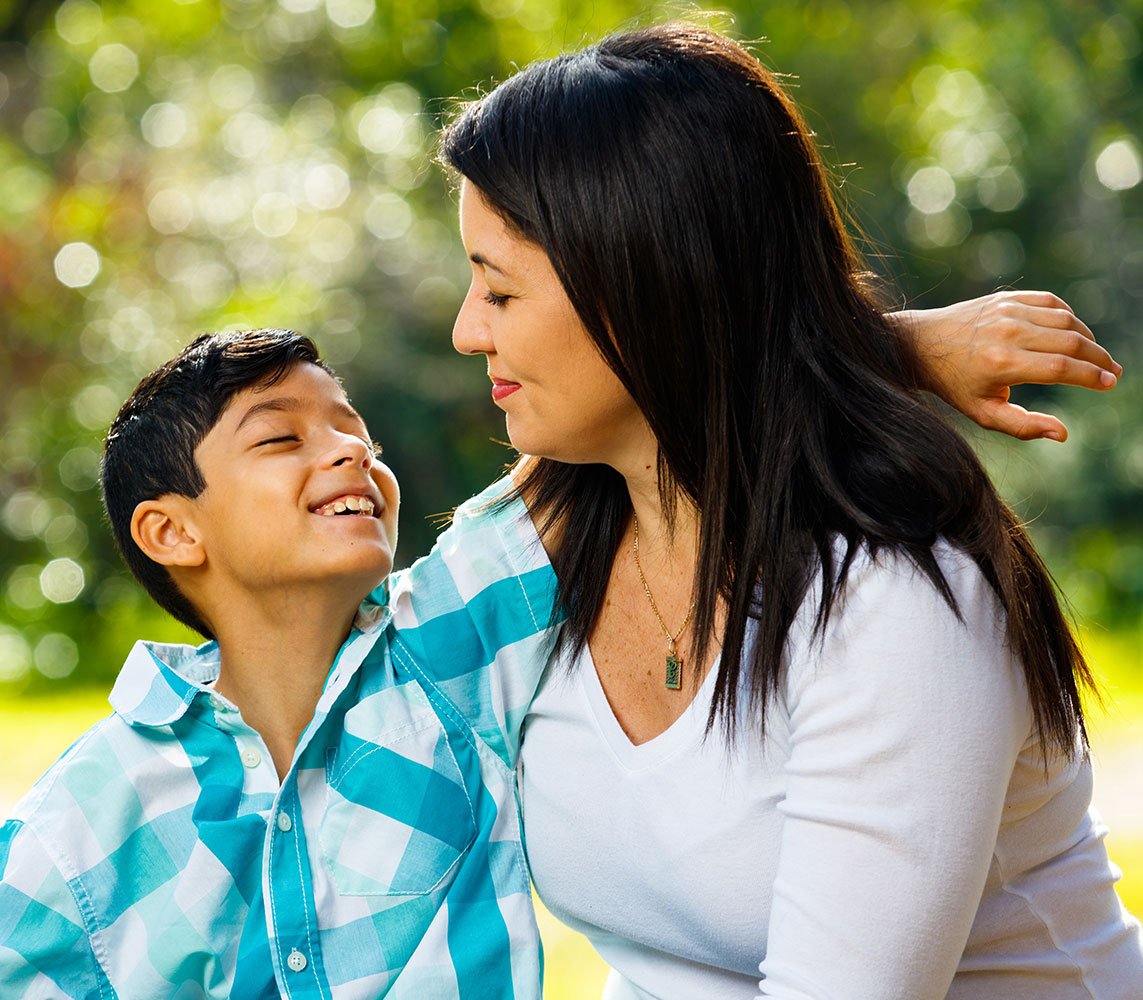 The Family Partner program requires a commitment of $2,000 to partner alongside one family for one year. This partnership will provide services like family counseling, food assistance, after-school tutoring, mentoring, parenting classes, and basic living essentials to your partnering family as they transition from crisis to self-sufficiency. You will have the option to give the full $2,000 commitment upfront or crowdfund the $2,000 through a customized online page provided by Friendly Center. Every partner receives this online page to allow friends, family, or coworkers to contribute toward or beyond the Family Partner program commitment and receive updates on the family's progress throughout the partnering year.
To get started, call (714) 769-8869 or email arian@friendlycenter.org.
Friendly Center's family-strengthening programs:
Friendly Center's 20+ wraparound programs offer struggling families the unique opportunity to find resources that combat the various intersecting barriers of poverty while meeting their immediate needs. Food insecurity, joblessness, mental health emergencies, and lack of educational opportunities are often cyclical issues for low-income families – Friendly Center's multifaceted, holistic approach of providing assistance through a variety of programs effectively helps these families transition from crisis to self-sufficiency.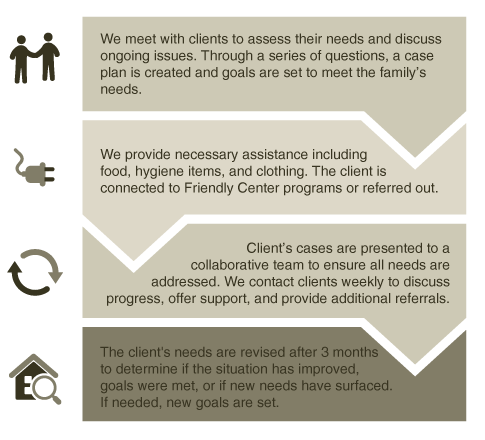 Family Support

COUNSELING. JOB DEVELOPMENT. DOMESTIC VIOLENCE INTERVENTION.

Food Support

FOOD DISTRIBUTIONS. EMERGENCY ASSISTANCE. SENIOR FOOD.

Education

AFTER-SCHOOL TUTORING. PARENTING CLASSES. FINANCIAL LITERACY. ESL.
Case Management that you help provide:
The Case Management program is designed to connect families with our staff on a personal level, making sure families receive the right help and uncover the root issue at hand. Staff sets goals with the families and continues to meet regularly with them to ensure progress is being made. Most of all, we want people to feel supported as they move forward towards positive change in their lives.
What is is the commitment to be a Family Partner?
The Family Partner program requires a commitment of $2,000 to partner alongside one family for one year. This can be given all upfront or through contributions over the course of the year. An online donation page dedicated for your family will be created for you to share with coworkers or family so they can contribute to the total goal of $2,000.
What can I expect as a Family Partner?
You will receive the following:
A welcome package in the mail in about two weeks that includes a photo of your family with information and description about your family.
A link to a web page dedicated to your family that you can share with others to join you in giving. The page will contain a place to crowdfund and submit online donations with a thermometer to track progress towards your $2,000 goal. The page will also display the family's photo, description, monthly updates, and a donor wall to see which of your friends, family, and co-workers have contributed. See Sample web page
The opportunity to send letters. Letter writing is a great way for you to encourage your family. They will feel supported knowing someone is out there cheering them on!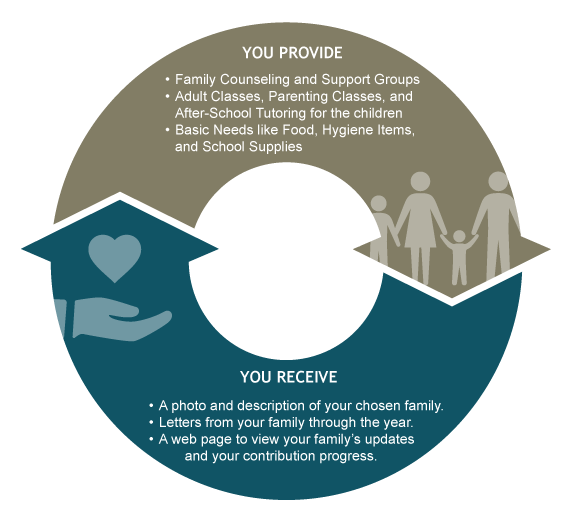 Is my donation tax-deductible?
Yes! 100% of all the contributions are tax-deductible. Friendly Center is a registered 501(c)3 non-profit agency.
How are my donations used?
Years of experience have taught us that helping families become self-sufficient is the best way to secure the family and their children's' futures. Your contributions ensure a lasting presence in communities as long as we are needed. They also help us to secure large grants from institutional donors to multiply your contribution and reach many more children, families, and communities. Rather than financial support being given directly to a family, your contributions are combined with those of other caring sponsors and institutional donors to provide a steady stream of programs that provide all the elements the family needs for long-term solutions.
Can I write my family?
Yes, please address your letter or card to Friendly Center at PO Box 706, Orange CA 92856. Indicate your Family Partner Name on a note so we can ensure correct delivery to your family.
How much communication can I expect from my family?
You can expect to receive something in the form of a card or letter from the family every 3 months. This will be sent to the main point of contact of the Family Partner.
What are the specific aims and objectives of the Family Partner program?
The overall aim of the program is to build cohesive family units that will empower families to become self-sustaining through meaningful social investment.
To Provide:
Family Counseling
After-School Tutoring
Mentoring
Job Development
Food
Parenting Classes
Financial Literacy Classes
ESL Classes
School Supplies
Hygiene Items
Emotional Support
Specific Aim:
To improve family social skills.
To provide employment opportunities.
To provide food and other items to meet the family needs.
To provide case workers providing 1:1 support.
To work actively with parents encouraging them to take responsibility for the well-being of their children and family.
To educate the family on being self-sufficient.
To ensure a brighter future for the children.
Can I send gifts to the family?
Gifts to the family are already built into the program. As part of the program, families are provided with basic needs and essentials, to which your contributions are helping to provide. In addition, families will receive rewards for reaching milestones every 3 months. These rewards are attributed to you and offer encouragement to the family as well. The rewards range from movie tickets to baseball tickets, or even tickets to the zoo. They are meant to allow the family to spend time together in a positive environment, enjoying an activity they may not normally do.When the family receives their reward, they will send you a letter of thanks.
Can I see which of my friends, family, and co-workers are donating toward the crowdfunding of the family?
Yes, all donors are listed under the "Donor Wall" tab located on the crowdfunding page. Click here to see a sample crowdfunding page.