Crowdfunding:
Family Partner Program
Crowdfund to sponsor a local family so they can escape poverty
Becoming a Family Partner allows your workplace, family, congregation, or organization to come together in support of one family for one year as they work with Friendly Center to overcome the barriers of poverty.
Families that come to Friendly Center face their own unique barriers, making our comprehensive wrap-around programs, emotional support, and steady encouragement especially valuable. As a Family Partner, you help provide the encouragement and steppingstones a family needs to move forward – witnessing firsthand the progress made as they begin to build a better life.

The Family Partner program requires a commitment of $2,000 to partner alongside one family for one year. This partnership will provide services like family counseling, food assistance, after-school tutoring, mentoring, parenting classes, and basic living essentials to your partnering family as they transition from crisis to self-sufficiency. You will have the option to give the full $2,000 commitment upfront or crowdfund the $2,000 through a customized online page provided by Friendly Center. Every partner receives this online page to allow friends, family, or coworkers to contribute toward or beyond the Family Partner program commitment and receive updates on the family's progress throughout the partnering year.
Friendly Center's 15+ wraparound programs offer struggling families the unique opportunity to find resources that combat the various intersecting barriers of poverty while meeting their immediate needs. Food insecurity, joblessness, mental health emergencies, and lack of educational opportunities are often cyclical issues for low-income families – Friendly Center's multifaceted, holistic approach, effectively helps these families transition from crisis to self-sufficiency.
Case Management that you help provide
The Case Management program is designed to connect families with our staff on a personal level, making sure families receive the right help and uncover the root issue at hand. Staff sets goals with the families and continues to meet regularly with them to ensure progress is being made. Most of all, we want people to feel supported as they move forward towards positive change in their lives.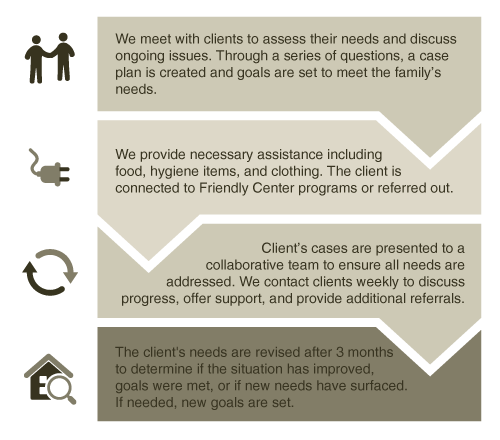 Become a Family Partner
Call us at (714) 769-8869