Stephanie and Brandon's Story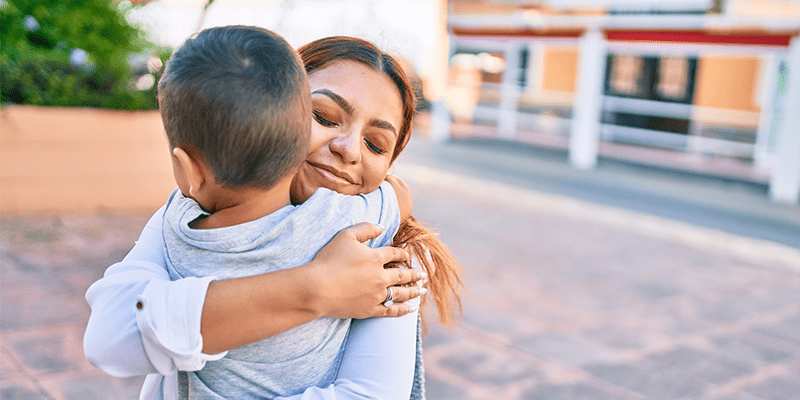 My 6-year-old son Brandon and I were struggling with the recent, unexpected death of his father.
When the pandemic hit, our lives continued to spiral when I lost my job and Brandon's mental health worsened.

As a single mom, supporting Brandon and myself was difficult enough. Though I was able to find some work, for many months I struggled to cover our basic needs.

With everything happening, I worried how we would get back on our feet and if my son would be okay.

I began finding him in tears and overcome with stress and grief. I knew, at his young age, this was not something to ignore. I had to get him support.

I tried to find counseling for Brandon, but our insurance kept denying services. That's when I began looking for other ways to get help.

After so much searching, I was relieved when Friendly Center answered my call. They helped enroll both of us in free mental health counseling.

Soon after, we were introduced to Laura, our Family Support Advocate at Friendly Center. She signed me up for food distributions and helped me apply for rental assistance.

After just a month of counseling and meeting with Laura, I saw a huge difference in myself and in Brandon.

I felt empowered instead of fearful, and so much less alone.

With Laura, I was able to get the help Brandon needed. I got to talk to someone about both my struggles and hopes for the future. Our basic needs were met.
By the end of my time with Laura, our situation was stable enough for me to enroll in a 12-week Nursing Assistant program, something I had wanted to pursue but never could.

Friendly Center, thank you for being there for Brandon and I during a very difficult time. Because of you, my son is living life and our future is changed for the better.
Sincerely,
Stephanie
---
Friendly Center supporters make it possible for people like Stephanie to receive vital resources for their families in times of need.

Stephanie and Brandon's lives were changed thanks to supporters like you. We invite you to consider a gift that will help more families in crisis find stability and strength.

As an added bonus this holiday season, you can double your impact! Through the generosity of Brown Pacific Inc, your gift will be matched up to $40,000.
Giving now means the next family that comes to Friendly Center will get the help they need.