Friendly Center began in 1924 by a men's community bible study to help local farm workers. Today, Friendly Center has expanded to help thousands of families each year to keep their children safe, stable, and secure. Our vision is to bring an end to poverty in the unseen parts of Orange County.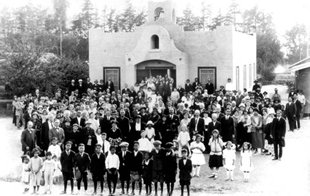 Friendly Center responds to the needs of the communities it serves with family support programs and other forms of assistance. More than 20 free programs and services are offered to low-income families through its locations in Orange County. The programs help support families in different situations to develop long-term solutions.
Providing stability, opportunity, and hope to children and families in poverty.
To end the cycle of generational poverty in Orange County.
Our services can be divided into three core areas: Family Support, Education, and Food Programs.
Within each area exist our wrap-around services which allow families to receive assistance from a holistic point of view, providing a balanced support system.
Read more about the programs that make-up these core areas here.
Our family support programs provide the emotional support families need when facing difficulties. This can include counseling, domestic violence intervention, parenting classes, and case management. By surrounding families with support, they can find the emotional stability and confidence they need to move forward with their lives.
Food is a basic necessity that can be a burden for those struggling. By helping families supplement their income with food, they don't have to choose between paying a an electric bill or putting food on the table. Our food distributions occur throughout the week at each site. This can include produce, dry goods, bread, and dairy, that is picked up from local stores or delivered to the centers.
Education
Our education programs include after-school tutoring, kindergarten readiness, and Adult ESL classes. By providing academic support, we can empower individuals to better their lives. The after-school tutoring also provides a safe environment with necessary academic tools. Students often come from homes where things like computers, books, or even paper are unavailable.
Serving communities for over 95 years.
0
Families in Case Management
0
Emergency Services Given
The Family Advocacy program is at the core of what we do. The program is designed to connect families with our staff on a personal level, making sure families receive the right help and uncover the root issue at hand. Most of all, we want people to feel supported as they move forward towards positive change in their lives.
After-school Tutoring (K-12)
Counseling
Family Support Services
Domestic Violence Intervention
Job Development
Parenting Classes
Food Programs
ESL Adult Classes
Emergency Assistance
Foster, Adoptive, Relative Care Giver Support
Community Resources
Holiday Events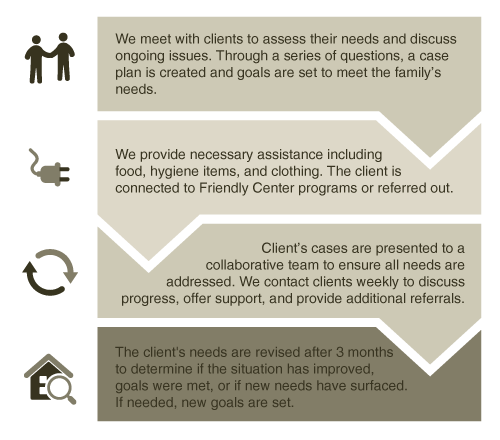 Discover more about Friendly Center through our blog!