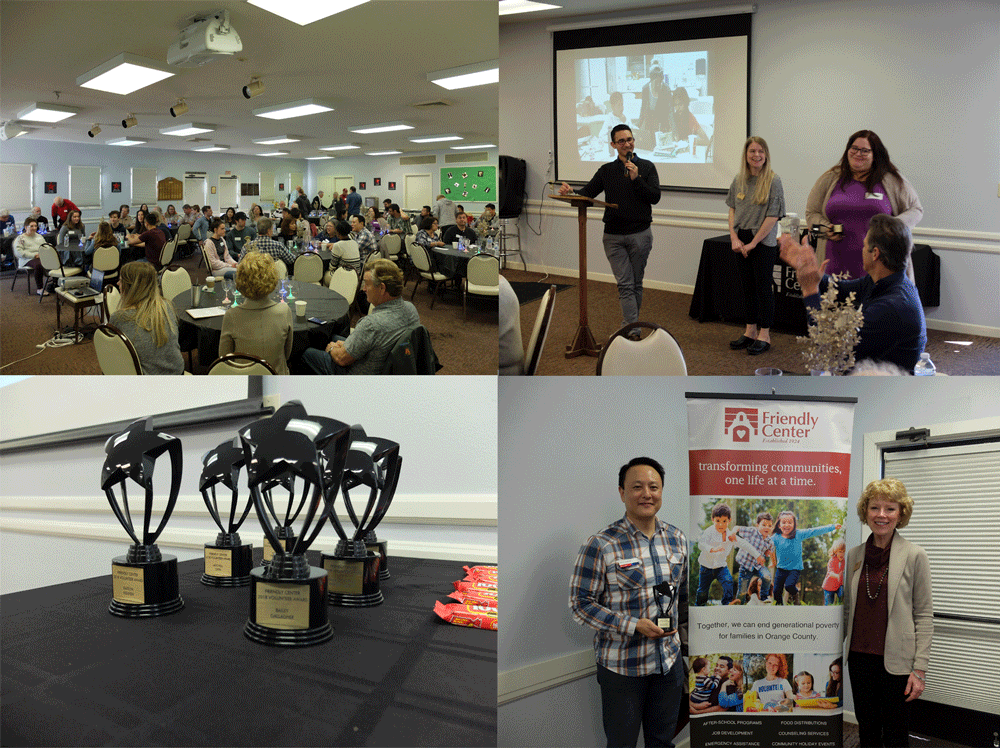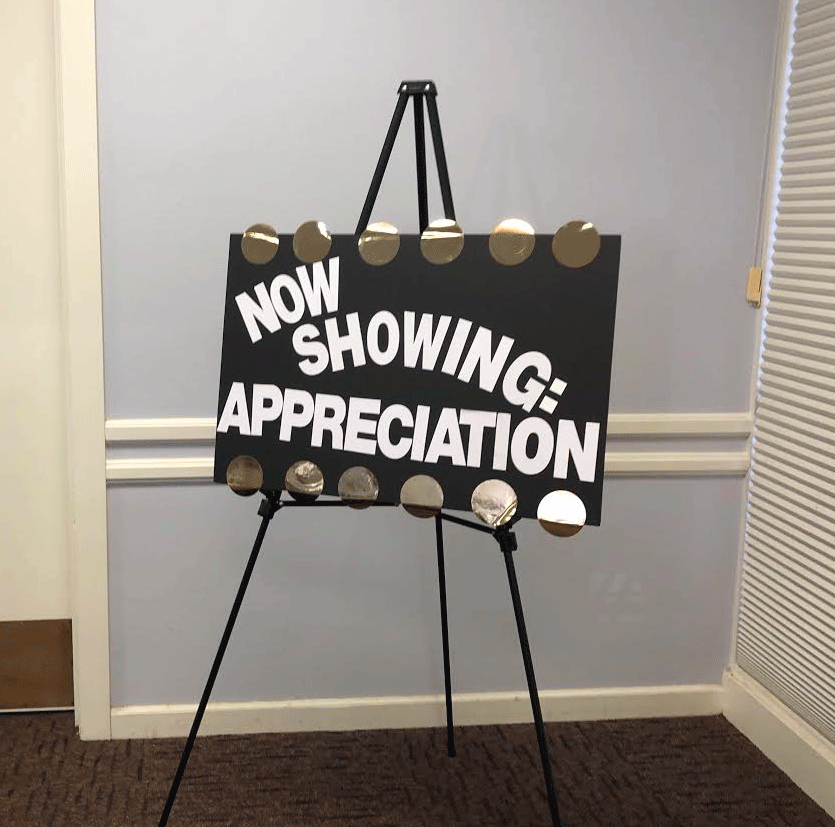 On February 23, Friendly Center had the chance to celebrate and recognize those who volunteered in our programs throughout 2018. The Academy Award theme was fitting, not only for its reference to the award show slated for the next day – but because Friendly Center volunteers deserve to be treated like stars. Like the real ceremony on Hollywood Boulevard, there was food, mingling, shimmering décor, and awards for a few extra special attendees. But unlike the 2019 Academy awards, we had a host!
Our Outstanding Volunteer award winners included four individuals and two groups. The first winner, Kaitlyn Nguyen, has spent almost a year dedicated to our Senior food program at Friendly Center Orange. As a recent college graduate, she decided seek a volunteer opportunity to dedicate her time to while applying to PA post-graduate programs. We're grateful she chose Friendly Center as Kaitlyn is now a consistent and positive addition to the program.
Our second winner, Mitchell Chen, is a Chapman student who has given over 50 hours to Friendly Center's tutoring program since coming on in September. Daisy, the lead tutor at the site where Mitchell volunteers shared, "Mitchell has been a great addition to our tutoring team. He has great leadership skills, determination, and a caring personality. He serves as a great role model for all our students in the program."
Next up was Alisa Driscoll, who we recognized as Friendly Center's Outstanding Behind-the-Scenes volunteer for 2018. Alisa served Friendly Center as a Gala committee member for two years while also giving her time to our holiday program. In 2018, she took on the task of preparing Gala silent auction baskets like a champ. Alisa's experience and creativity never went unnoticed by those she worked with at Friendly Center.
Bailey Gallagher was our final individual volunteer to be recognized – she's Friendly Center's 2018 Outstanding Youth volunteer for all the ways she served our organization in 2018, all while juggling work and school. Last year, Bailey gave over 12 hours to helping our education staff prepare the classroom for the 2018-2019 after-school program. She also volunteered at our annual Gala, spent hours collecting Turkey Drive baskets, and worked multiple shifts at Street Fair.
The first of two groups honored at the brunch was Bank of America Orange County for their group volunteering through Friendly Center Placentia's mobile pantry events in 2018. They've been volunteering with Friendly Center for years, consistently providing our Placentia location with volunteers who are always showing up eager to serve the community.

Our final group award went to Boy Scouts Troop 321 for Outstanding Ensemble Performance. For 25 years, this troop has volunteered at Friendly Center's Holiday Outreach event in Orange. There, Troop 321 organizes donated holiday food drive items and, last year, even helped us distribute them to the community. Though the Boy Scouts in Troop 321 have changed through the years, their spirit of helpfulness remains consistent.

Whether you gave two or two hundred hours to Friendly Center in 2018, we want to thank you for your dedication to making our programs thrive.

Interested in getting more involved? Visit our website for more information regarding upcoming volunteer opportunities.