Donor Spotlight: Labeltronix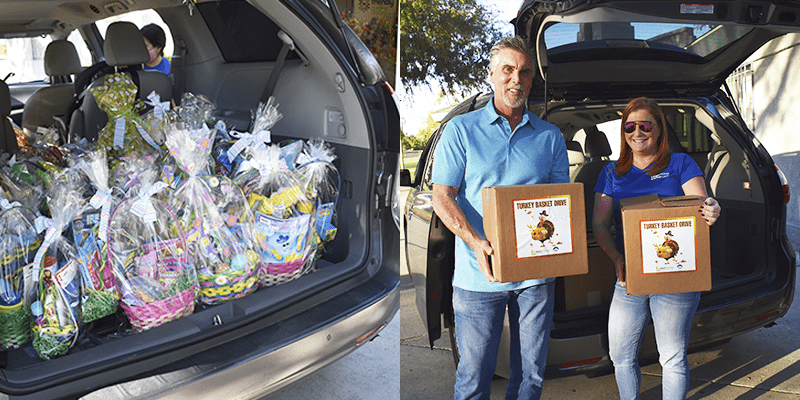 Labeltronix is an Anaheim-based company that prints premium crafted labels for various industries. They are also notable supporters of Friendly Center's collection drives! For the past two years, Labeltronix employees have assembled over 200 Easter Baskets and Turkey Baskets for Friendly Center families. With our Easter Basket Drive right around the corner, we chatted with Labeltronix's Jill Sambol to learn more about how their 82 employees work together to make this impact.
What began as a desire among employees to give back to the community became Real Impact, a committee of Labeltronix team members who volunteer their time to meet monthly and coordinate company projects/events to support various local causes.
Friendly Center's Turkey Drive was fortunate enough to be Real Impact's inaugural service project, with the committee choosing to also support our Easter Basket Drive a few months later. We are so grateful that they have continued to participate in such a big way. So, how have they collected 230 baskets since 2019? Jill says the Real Impact team challenges the departments within Labeltronix to assemble a certain number of baskets, which together make for an impressive tally.
On the committee's decision to get involved, Jill shares, "Friendly Center does an excellent job giving to families who need it. It is very rewarding giving back and making a difference in the lives of the people in this great community." We are appreciative of Labeltronix and the Real Impact team for touching the lives of so many OC families through their efforts.
Friendly Center's 2022 Easter Basket Drive is coming up on Monday, April 11th. Schedule your drop-off appointment and help us serve 1,000 local kids! Information regarding what baskets should include and a link to schedule your drop-off appointment (beginning March 1st) can be found on our Easter Basket Drive page.