Interview with Longtime Street Fair Volunteer, Roxanne Rothafel!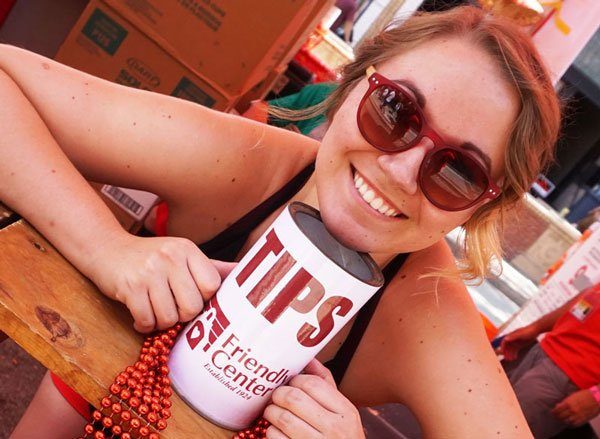 The Orange International Street Fair is an annual celebration of food and culture that takes place in Old Towne Orange every Labor Day weekend. Street Fair boasts dozens of food and beer booths that are operated by local non-profits to fund-raise and inform the community of their work. Each non-profit adheres to the country of their assigned 'street' to determine which dishes are sold in their food booth, making it a great opportunity to experience the foods and flavors of various cultures. Friendly Center has hosted a food and beer booth on the Fair's Mexico Street for over 20 years, serving everything from nachos to horchata. Orange International Street Fair is not only one of Friendly Center's biggest fundraisers – it's also a beloved volunteer opportunity for many of our supporters! One of our longtime Street Fair volunteers, Roxanne Rothafel, recently shared her Street Fair volunteer experience; what makes it such a special event and why you should get involved!

How long have you been volunteering at Friendly Center's Street Fair booths and how did you first get involved? I got involved with Friendly Center when I was pretty young, I think around 5 years old? I wasn't a great volunteer then, but as I grew up I became an advocate first, sharing the mission, then started attending events, and working my way into a Street Fair booth by the time I was 13 or 14.

What keeps you coming back to volunteer at this particular event year after year? Street Fair is an amazing opportunity, not only to raise some money for Friendly Center, but to see other volunteers, spread the mission of Friendly Center to people who might not otherwise have heard about it, and to really put in some blood and sweat for a cause that I love!

What's your favorite part of volunteering at Street Fair and a fun memory from years past? The other volunteers are a probably my favorite part of Street Fair! They are an amazing group of people and they are a part of my favorite memory of Street Fair ever, which was when our beer booth volunteers danced in the first ever Street Fair rain in 2017! We had to stop serving for safety reasons, and there was nothing better to do than teach passing children how to puddle jump and to go out and enjoy the rain!

What would you say to someone thinking about volunteering at Street Fair, or volunteering this year for the first time? If you're considering volunteering at Street Fair, be prepared for a little heat, some great friendships, and the opportunity to experience community in the heart of Orange!

Street Fair volunteer spots always fill up fast, so be sure to visit our Street Fair volunteer page to secure your shift! Note: Volunteers working in the beer booth must be 21 years or older.