The Need in Our Community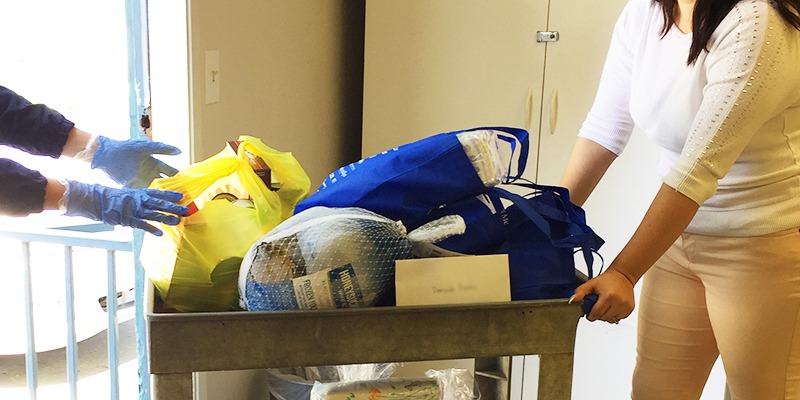 Local Families Need Your Help
As the COVID-19 pandemic continues to make a significant impact on the employment and income of families across Orange County, Friendly Center has seen a significant increase in requests for food, hygiene items, and utility assistance.
Low-income families with young children are particularly vulnerable during this time, as are those experiencing violence or other crises in the home. Friendly Center programs and services are designed to support these populations and must continue, making your continued support critical.
What We're Doing
Along with providing our year-round programs and services remotely, here are a few ways we've adapted to serve the most vulnerable during the COVID-19 crisis:
Meeting Essential Needs
Food, diapers, and utility assistance are being provided by appointment.

Answering Calls for Assistance
182 phone calls came in last week from those seeking help. Many families are grateful just to have someone to talk to.

Tutoring Online
Our Education Staff continues to work with at-risk students stuck at home, by way of video conference calls.
Two Ways You Can Help
Donate a $30 Target gift card or more using the button below. These will go to families in need of food and hygiene items.
OR
Donate directly to Friendly Center financially to support the community.
Your support is critical for short and long-term needs of struggling local families.
---
Resources
If You Need Help
Our phone lines are open. Call (714) 771-5300 for information, support, and resources.
Orange County COVID-19 Hotline
A new Orange County hotline is now available for all inquiries related to COVID-19. Call 1-833-426-6411, text OCCOVID19 to 888-777, or visit https://Covid19info.ocgov.com/.
Government COVID-19 Websites
U.S. Government State of California County of Orange
Public Health Information
California Department of Public Health Centers for Disease Control and Prevention
Taxes
Internal Revenue Service
California Franchise Tax Board
Orange County Treasurer-Tax Collector
Insurance and Health Care
California Department of Insurance
California Department of Health Care Services
Covered California
DMV, Housing, and Education
California Department of Motor Vehicles
U.S. Department of Housing and Urban Development
California Department of Housing and Community Development California Department of Education Keep Education Going (State Senate resource for parents with young kids)